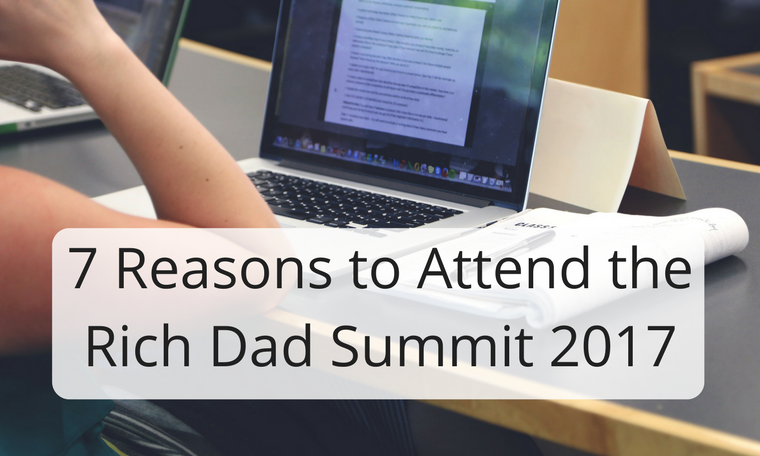 The best selling author of the book Rich Dad, Poor Dad Robert Kiyosaki just announced the Rich Dad Summit 2017. The Rich Dad Summit is 2-day live event for the prize of $1.
I highly recommend you to attend this seminar! Here are my 7 reasons why:
Reason #1: The Presenters
A presentation is only as good as their presenters, right? At the Rich Dad Summit 2017, there will be only presenters that have a 7-figure income. Here is an example of some of the presenters:
Robert Kiyosaki
I'm sure everyone knows the book "Rich Dad, Poor Dad". If not you should read it now! (Get the book here)
It's one of the best books I ever read about investing and passive income. Robert Kiyosaki is also the founder of the RichDad company. That company offers training material for financial intelligence.
He also invented the board game "Cashflow 101" which is a great way to play and learn more about investing. (Get it here)
Anik Singal
Anik Singal is a huge name in the online marketing world. He's found over dozens online marketing companies and is making millions every year selling products.
With his company Lurn, he wants to help people succeeding in online marketing. There are already over 100,000 students who followed his training and many success stories.
Kotton Grammer
Kotten Grammer is an online entrepreneur and one of the leading experts in the field of SEO. He's the founder of the SEO agency Kotten Grammer Media that helps companies succeeding with SEO.
His Agency is ranking #1 in Google for Chicago SEO, St. Louis SEO, New Orleans SEO, Memphis SEO, Orlando SEO, Miami SEO. In addition, Kotton has also sold over $40,000,000 in digital products through webinars.
Fred Lam
Fred Lam is one of the leading experts in eCommerce. His career started with 12 years as a dishwasher. Knowing that he wanted more from life, Fred began venturing into the online business world. Today, Fred is the CEO of several multimillion-dollar businesses.
In addition, he's teaching people how to build an eCommerce business with zero starting capital and zero knowledge.
And there are also many more presenters…
Reason #2: It's virtual
The great thing about the Rich Dad Summit 2017 is that you can attend from anywhere in the world. You don't have to book a flight, search for a hotel, ect.. Usually, the traveling takes a lot of time and money but in this case, all of this falls apart!
It can be also scary to sit in a room with a lot of strange people. Here, again you don't need to go anywhere. Just take your laptop and attend the summit from wherever you want to.
You can even attend the seminar during your vacation if you have access to the internet!
Reason #3: The prize
Usually, for a 2-day seminar with presenters like this, you have to pay hundreds if not thousands of dollars! However, as I already mentioned, this summit only costs $1! That's nothing compared to the content you'll get.
For only $1 you'll get access to knowledge that can make you more money and finally "escape the rat race".
Even the book "Rich Dad, Poor Dad" costs around $7 and costs more than 7 times more than this seminar!
Reason #4: The content
In these 2 day live event you'll learn everything you need to know to build a successful business and finally get financial freedom. Here is some information about the content you'll get.
You'll discover how to…
Increase your income…
Acquire assets…
Build passive revenue streams…
Invest in real estate…
The opportunity in cryptocurrency…
Build your own business…
The purpose of this seminar is to give you a blueprint you need to make a lot of money by working smarter (not harder).
You'll get the tactics, strategies, tips, blueprints & secrets for:
Making more money…
Setting up systems that let your money make more money!
Reason #5: Time Saving
Sure you can learn everything you'll learn in this seminar on your own. But that takes a lot of time and effort.
How many books can you read in 2 days? If you are fast and you really read a lot I think you could read 4 books. However, I think most of us can only read one book in 2 days.
In this seminar, you'll get more knowledge you could ever get from reading 2 days straight. That will save you a lot of time and effort!
Reason #6: Best preparation for 2018
The event takes time on the 9th and 10th of December. This is the perfect time to start preparing ourselves for 2018. With all the knowledge you'll get in this 2 days you can make sure to make 2018 your most successful year ever!
With all the great content it will be easy to create momentum and to crash your goals for 2018!
Reason #7: Christmas Present For Yourself
What are you giving yourself for Christmas this year? How about financial freedom?
How about the possibility to live the life you always wanted?
I believe that attending this seminar will be the best chance to give yourself the best Christmas gift ever. Think about it.
Where can you be next year by attending this seminar? How would you feel next year if you were able to build a successful business and quit your daily job?
Would you even be at home this Christmas or on vacation?
2018 can be your year. You only have to make the decision to do so.
Attend the Rich Dad Summit 2017 for only $1 and make 2018 your year!
In this article, you learn how to earn extra money in the comfort of your own home. Earning extra money can be very useful. You can pay off your debt or finance a better lifestyle. You can also save the extra earned money to get financial independent in a shorter time.
There are many good reasons why to search for a job that you can do at home. Maybe you want to avoid the traffic or maybe you want to take care of your kids. Also maybe you want to work while enjoying in the sun or sitting at the beach.
Whatever it is, there are several possibilities to earn money in the comfort of your own home. Here is my list of home based jobs that can get you some extra money.
Start a website
A website can be created easily in only 5 minutes (see here how) and you can start earning right away. Usually, it takes around 3 months until your website earns money but your earnings can get really high. So you have to put in your work at first and later you can earn the results. If you need money fast this is maybe not the right option for you.
Freelancer
If you want to earn money right away you can start earning money as a freelancer. As a freelancer, you can write articles, design logos or websites or develop applications and many things more.
You can get paid per hour or per project. At the beginning, it may be helpful to start with earning money per hour so you can find out how long you need for a project. I used to work with freelancer.com which is a great platform to hire freelancers or to work as a freelancer.
Earn money for surveys
You can also get paid by answering surveys. There are several providers for that, I used Swagbucks and it worked very well. By answering questions at Swagbucks you get gift cards for Amazon, iTunes or other online shops.
With Swagbucks, you can also save money while shopping. All you need to do is to go shopping in the preferred shops and you earn Swagbucks which you can use to buy gift cards.
Virtual assistant
There is also the possibility to work as a virtual assistant. As a virtual assistant, you have to do several tasks someone wants to be assisted by. This can be for example planning a business trip or writing invitations. If you are good at organizing this can be a really good job for you!
Test websites
You can also get paid by testing websites. UserTesting.com is such a website. You can get $10 for each website test and $15 for every mobile website tests.
You need to install software which will record your screen and your voice and all you have to do is to visit a website and comment on the usability or look and feel of the website.
Teach others
You can earn good money by teaching others. Before you think that you can't teach anything I will stop you there. I'm pretty sure that there is something where you are good at and what you can teach others.
If you don't want to write a blog or anything like that this can be a good opportunity. I heard that Teachable is a very good website for that.
Create ebook
It was never easier to publish an ebook than today. You can either sell it through your own website or Amazon. If you want to earn money by selling an ebook you need to do some work in advance. You need to write the text of your book, you need to choose a title for your book and you need to design a cover.
Some of the work can be outsourced but then you need to pay in advance. If you have launched your ebook it can be a great stream of passive income.
Develop an app
If you are good at coding you can either work as a freelancer or develop your own application. Here needs to be done a lot of work in advance, but if you have a useful application in the app store you can earn good money.
This can also be a great stream of passive income, but as I said a lot of work has to be done in advance. You also need to have knowledge in design and marketing to launch a successful app.
Get paid for searching online
If you use Swagbucks you can earn money while searching online. All you have to do is to use Google as always and you will receive Swag Bucks. These points can be used to get gift cards for Amazon for example. So with very little work, you can earn some money.
---
As you can see there are several possibilities to earn extra money while staying at home. I started a website over a year ago and I never look back. I can work wherever and whenever I want and this freedom makes me very happy.
Have you tried one of the ways before? What have been your experience? Or maybe do you have additional ways I didn't think of? If so I would love to hear from you so please leave a comment below 🙂